Mix Fine Art and Music Talent
Armen Kojoyian of EXIT Kingdom Realty, Forest Hills, and Armen Meschian of EXIT Realty Landmark, New York, will be featured, live, at Espresso 77.  The Jackson Heights, Queens venue hosts an opening reception on February 8, 2013 from 7:00pm – 10:00pm.
"Armen and Armen" are more recently known for their impressive array of residential real estate transactions in prominent Jackson Heights locations.  They have been engaged as exclusive agents for the last several years and have earned local trust for their business acumen and attention-grabbing marketing, both online and in the street.  On February 8th, their new collaboration is to produce an evening of art, which will feature original photographs by Kojoyian themed "La Luz del Bajío" , and live musical backdrop by Meschian. The event is hosted by Espresso 77, a local Jackson Heights hot spot frequented by the duo between real estate related appointments.
ABOUT THE PHOTO EXHIBITION "La Luz del Bajío": "La Luz del Bajío" is a photographic essay focused on the Spanish Colonial grandeur and life found in Guanajuato and San Miguel de Allende, Mexico. The Bajío is a vast central plain that includes the states of Guanajuato and Querétaro. Guanajuato the boyhood home of Mexico's famous muralist, Diego Rivera. Known for being one of the most devoted bastions of Mexican Catholicism The Bajío's colonial churches feature splendid Spanish Baroque and Neo-Gothic details. The Bajío is where in April 1915, during the Mexican Revolution, General Álvaro Obregón provoked decisive battles against Pancho Villa. Villa's troops lost outside Celaya.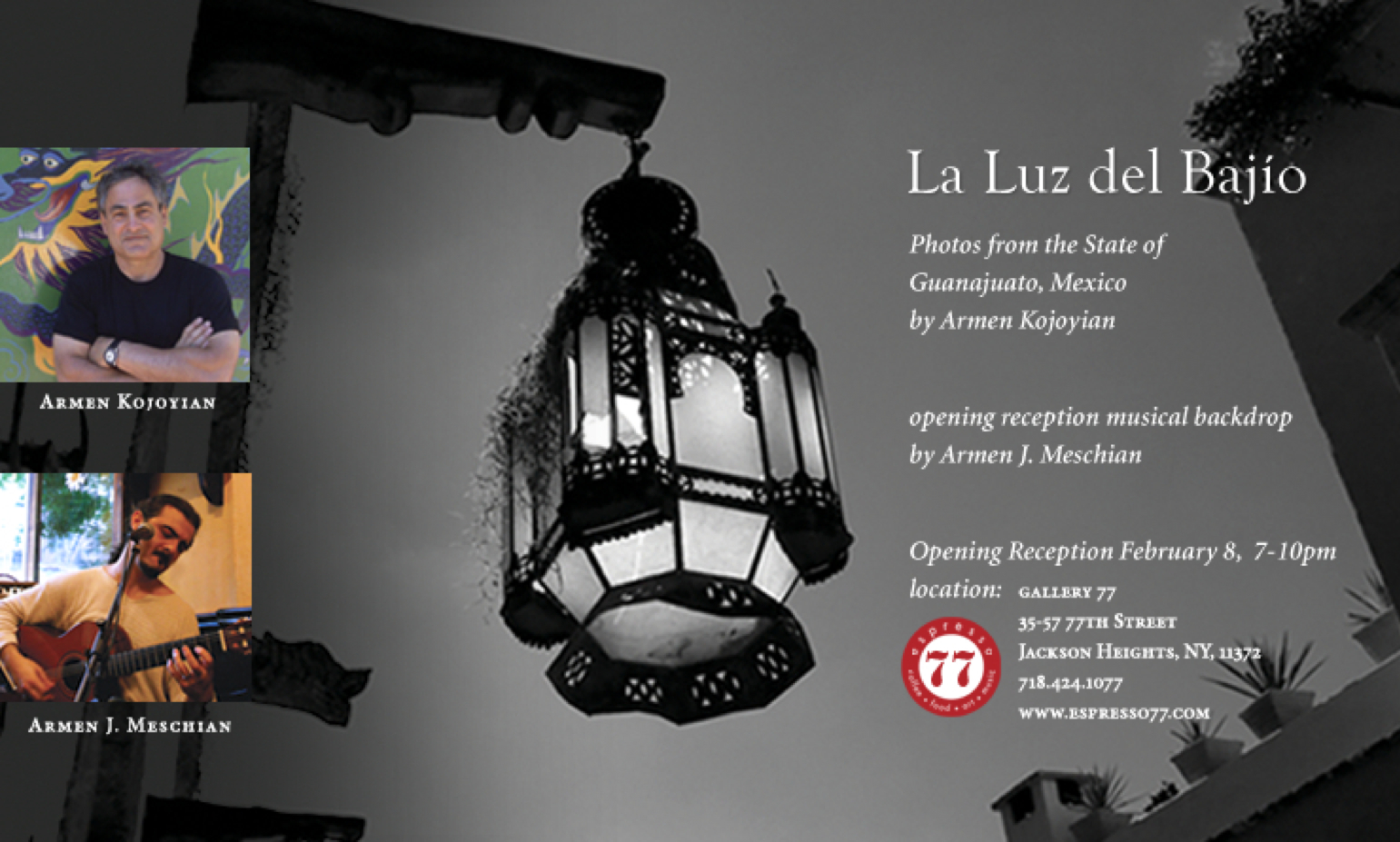 ABOUT THE ARTISTS:
Armen Kojoyian A versatile artist, designer, illustrator, and photographer. Armen specializes on book cover design, and book project management. Among his many noteworthy accomplishments are the official Boston Marathon poster, and the children's book A Drop of Honey published by Simon and Schuster. As staff designer at McGraw-Hill, Armen had the privilege to design Nobel Prize winner Dr. Leland Hartwell's first edition of Genetics: from Genes to Genomes. Kojoyian designed the second edition of Human Sexuality by Dr. Ruth Westheimer for Lippincott Williams & Wilkins. He illustrated the children's book called Baxter Shares His Bear for the Bon-Ton stores. Armen's career in publishing includes all facets of design and production, from designer to art director, as well as being a traditional and digital illustrator. He has designed and illustrated for all divisions of the book and magazine publishing industry. To learn more visit: www.akojoyian.com
Armen J. Meschian (a.k.a. J. Armen) New York based musician, composer and producer. Noteworthy credits include over fifteen published releases and five movie soundtracks. Performance highlights include the Kodak Theatre in Los Angeles, CA, Electrafire modern rock opera, Bat Boy rock musical and ABC World News. To learn more visit: www.jarmen.net
VENUE – ESPRESSO 77  Espresso77 located at 35-57 77th Street, Jackson Heights, NY, 11372, phone 718.424.1077
About EXIT Realty: EXIT is a proven real estate business model that supplies single-level residual income – for agents, security, stability and direction; for agents' families, security in the form of beneficiary and retirement residuals.  EXIT's MIND-SET Training Systems offer the industry's best hands-on, interactive sales training.  State-of-the-art technology, including the Digital Marketing Strategy, gives home sellers the edge in a competitive marketplace. A portion of every transaction fee collected by EXIT International is applied to its charitable fund. To-date, over $2 Million has been pledged to Habitat for Humanity.  For more information, please visit www.exitrealty.com.
Also covered by Real Estate Weekly :
http://www.rew-online.com/2013/01/31/runway-stars-back-at-atlas/